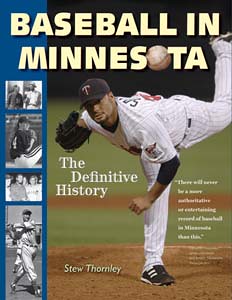 So, this week, everyone's a Twins fan, but how well do you really know Minnesota baseball?
The first five people to answer the following questions correctly will win a free copy of our book Baseball in Minnesota: The Definitive History by Stew Thornley!
Send your answers to info-mhspress@mnhs.org. We will write you for a mailing address if you are one of the lucky winners.
Here we go:
1. What year did Kirby Puckett join the Twins?
2. On what date did Harmon Killebrew hit his first homerun for the Twins and how far did the ball go (estimate)?
3. In the spring of 1965, there was a lot of flooding. For the home opener, 4 members of the Twins were marooned on the wrong side of the swollen Minnesota River. They had to be flown to the game by helicopter. Name them.
Good luck all!