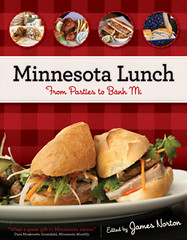 A couple of weeks ago we organized a Minnesota Lunch Bunch at the MHS, prompted by our excellent new book: Minnesota Lunch: From Pasties to Banh Mi, edited by James Norton, who also edits the popular online food magazine Heavy Table.
Our lunch bunch was made up of six staff members from different areas of the workplace, including a technology manager, two reference specialists, a curator, a publisher, and a programmer. We wanted a variety of takes on a range of sandwiches–and, of course, we wanted to get to know each other better. The collective knowledge in the group was astounding: as we visited different eateries and tasted different sandwiches, everyone contributed facts about the geography of the place, the history of the building, the immigration patterns of the people who lived in the area, the community celebrations of those neighborhood folk. We were, after all, a group filled with a love of history. And food. 
Looks like our lunch bunch is in good company, too. Sandwiches–they're everywhere these days! Food trucks in the Twin Cities are out and about for spring, offering tasty pulled pork on buns and buffalo chicken on toasted bread. The Chicago Tribune recently featured a slide show: "30 sandwiches in 30 Days."  And Saveur magazine's new spring issue theme? Sandwiches, of course.
It was a really enjoyable "Sandwich Salon," if you will, that we recommend you try in your own workplace (or with friends and family), guided by the stories and photos of the eleven featured sandwiches–and all their variations and cousins–in Minnesota Lunch, which also has a companion blog by the contributors. Ours was a terrific assignment and gave us something to look forward to a few times a week. We didn't have to drive far and we certainly didn't have to spend much money. Journalist James Lileks, who was quoted in the introduction to the book, said about his leaving an office job: "The only thing you really miss is lunch. Where you went, who you went with, what you said and did. . . ." 
Next week we'll feature the highlights of our sandwich tour, which began with banh mi at Trung Nam French Bakery in St. Paul and ended with the infamous Jucy Lucy at Matt's Bar in Minneapolis. I smile every time I think about one of the first statements made by LK at our shared table: "Sandwiches. They are one of my favorite things. They're perfect. If I were on a desert island and could have only one thing, I'd have a sandwich."