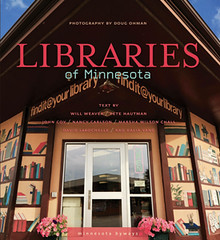 A veritable who's who of Minnesota's best-known writers of books for children and young adults will testify to the special significance of libraries in their lives this Thursday, April 21, at 7:00 p.m at the Minneapolis Central Library's Pohlad Hall to celebrate the publication of Libraries of Minnesota.
With images by Doug Ohman, photographer of the Minnesota Byways books, which include the well-loved Barns of Minnesota and Cabins of Minnesota, and essays by Will Weaver, Pete Hautman, John Coy, Nancy Carlson, Marsha Wilson Chall, David LaRochelle, and Kao Kalia Yang, Libraries of Minnesota is a rich exhibition of Minnesota's beloved libraries. The book is a cooperative project of the Council of Regional Public Library System Administrators and the Minnesota Historical Society Press, funded by the Legacy Amendment's Arts and Cultural Heritage Fund.
Thursday's event is sponsored by the Library Foundation of Hennepin County, the Metropolitan Library Service Agency, and the MHS Press. Doug will give a visual presentation of photos from the book, followed by anecdotes from the contributors. Books, including select titles by the authors, will be available for purchase at the event courtesy of Magers & Quinn Booksellers, and a portion of the proceeds will be donated to the Library Foundation of Hennepin County.
Last week's Star Tribune Variety section featured a slide show and excerpt from the book. You can also see a preview of the book on the KARE11 website: Doug and Pete talked about the project on the air this past Saturday.
The image below is not from the book but is featured today on the popular website boingboing and originally comes from the L. A. Library via the Boing Boing Flickr pool from Bart King. Since it features a kid in a library with a copy of a book by another beloved Minnesota author and illustrator, Wanda Gag, we thought it worth sharing!