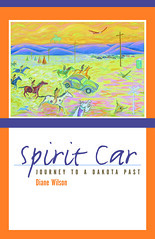 We are pleased to announce that Diane Wilson's book Spirit Car: A Journey to a Dakota Past has been chosen as the next book for One Minneapolis One Read.
From the press release from the City of Minneapolis:
"The Minneapolis City Council today approved Spirit Car: Journey to a Dakota Past as the next One Minneapolis One Read book. This will be the second year of the citywide 'read,' where the entire community is encouraged to read a single book and join in a community conversation. The community read will launch fall 2012.
"Spirit Car: Journey to a Dakota Past was written by Minnesotan Diane Wilson. Wilson grew up in a Minneapolis suburb and then followed questions about her family's past to South Dakota and Nebraska, where she tracked down information about her maternal relatives through five generations. The result of Wilson's quest for discovery is Spirit Car, a book of vignettes she created in her desire to honor the lives of her Dakota Indian family. The story of Wilson's family begins with a vivid account of the 1862 Dakota War in Minnesota and then follows her family members' nomadic travels across South Dakota and Nebraska in their struggle to survive."
Author Diane Wilson is also the director of Dream of Wild Health, a ten-acre farm in Hugo, Minnesota, whose goal is to help American Indian people reclaim their physical, mental, and spiritual health by teaching the old ways of growing food and leading healthy lives. She is a Mdewakanton descendant; her mother was enrolled on the Rosebud reservation. Spirit Car was her first book and a Minnesota Book Award winner in 2006.
Spirit Car and Wilson's second book, Beloved Child: A Dakota Way of Life, are available from  fine booksellers and popular online retailers.
Both books are available as e-books.
Diane Wilson at the book launch for Beloved Child: