Nature/Enviroment
Archived Posts from this Category
Posted byAlison Aten on 13 Dec 2011 | Tagged as: Contest, Nature/Enviroment
Today's blog post is by Adele Porter and Bill Marchel, author and photographer of Birds in Our Backyard: Say Hello to Minnesota's Feathered Friends.
In Minnesota, we are hoping for a great gray winter.
How can winter be both great and gray?  It is if there is an "irruption" of Great Gray Owls moving southward out of Canada into Minnesota.
When conditions are just right, keep your eyes wide open for this large northern owl sitting on top of a roadside tree or pole, scanning and listening for movement of its favorite meal of meadow vole (Microtus pennsylanicus.)
All it takes is a very wet, very cold spring and summer in the Canadian peatlands, and the population of meadow voles plummets. This happens on the average of once every three to four years, sending Great Gray Owls further south in search of food. Nearly 80 percent of the Great Gray Owl's carnivorous diet comes from meadow voles. That's a big lean on just one food item.
Meadow voles live in moist, grassy areas. In the winter, they keep to the zone of deep snow that provides protection from the cold, wind, and some predators. But watch out below! Great Gray Owls have a keen sense of hearing and can locate a vole two feet under the snow. Never mind if the snow is deep and crusted: Great Gray Owls have adapted a hunting maneuver of diving through the snow with their head and sharp talons, called "snow plunging."
"I remember a particular Great Gray Owl I photographed one cold and clear winter day a few years ago," said wildlife photographer Bill Marchel. "The snow was nearly waist-deep that year, and I wore snowshoes to help me get around in a tamarack bog. Over my shoulder I carried a tripod-mounted camera and a backpack full of photography gear.
"It was sunny but cold that day. My cheeks were rosy and fingertips numb.  It was nearly sunset when I spotted a Great Gray Owl perched on the tip-top of a small tamarack.
"The bird allowed a close approach–as they often do–and after snapping a few pictures, I relaxed while I studied the owl. Totally ignoring me, the owl swiveled its huge head left and right on what I figured must be a neck containing well-oiled ball bearings. But it was the bird's yellow eyes that demanded the most attention. I thought for a minute.  Piercing?  Sort of.  Striking?  Maybe. Captivating, that's it!  It's those captivating yellow eyes. That's what is so alluring about Great Gray Owls–those captivating yellow eyes. I snapped a few more photos.
"Peering through the camera's viewfinder, I noticed the owl suddenly become alert.  Its attention was focused somewhere in the open bog beyond me. Then the bird took flight. It started out low and in my direction. My camera whirred as it advanced from frame to frame while the owl approached. The big raptor passed so close to me that I felt the wind from its giant spreading wings. But I heard not a sound. Its flight was totally silent.
"As the owl passed me it rose slightly in the air. As it did its wings abruptly became rigid. Then the bird went into a midair stall about twenty yards away. Next, without warning, the predator plunged downward into the snow with wings back and talons outstretched. The prey, a vole I assumed, was secure in the owl's grasp nearly a foot under the snow.  After briefly glancing about, the Great Gray Owl downed its victim in one gulp. Once again it thrilled me by flying close while returning to its original perch to continue its hunt."
What to Look For
The name Great Gray Owl is a clue that this gray owl indeed looks large. Take away the dense feather mass, however, and this owl is taller but lighter in weight than its northern cousin the Snowy Owl. Great Gray Owls can measure about 2 to 2 1/2 feet tall with a 4- to 5-foot wingspan (about 50 to 60 inches). They wear a white bow-tie with a black knot and have yellow eyes. Their two large feathered facial disks serve to funnel sound directly to their ears, which are under the feathers on the outer edge of each disc. The owl's ears are positioned at different levels on each side of its head, which allows it to "triangulate" the sound and pinpoint the vole under the grass or snow cover.
When and Where to Look
To get a look at this large owl, take to the roadsides, fields, and open coniferous forest edges near a river, bog, or stream at dawn and dusk this winter. It dines most often in the low light of sunrise and sunset. If we are fortunate enough to see the wide wings of this predator ranging over the northern states in the next months, our hopes may have materialized into a great gray winter.
Win a copy of Birds in Our Backyard!
Visit photographer Bill Marchel's website for the answers to these questions, and submit links to pictures of the birds from his website in the comments section of this blog. Deadline for submissions is Thursday, December 15, at noon. One winner will be randomly selected from correct submissions.
Clue # 1
This bird is orange and black and builds a hanging sock-like nest.  Icterus galbula
Clue #2
This bird is blue and white and has a crown atop its head, and is not a belted kingfisher. What is it?
Clue #3
The state bird of Minnesota.
Look for another chance to win a copy of the book on Thursday!
Posted byreyescarlosa on 11 Aug 2011 | Tagged as: Authors, MHS press, Nature/Enviroment, Videos
Sunday's Yahoo News column, Who Knew, celebrated the 332nd anniversary of the first European journey into the Great Lakes. Lucky for us, we have one of those great natural landmarks in our backyard, the mighty Lake Superior.
Among the wonderful details featured in the video, here are some more fun facts about our very own great lake.
Did you know?

Lake Superior, by surface area, is the world's largest freshwater lake.
With an average underwater visibility of 27 feet, Lake Superior is the cleanest lake out of the chain of Great Lakes.
There have been more than 350 recorded shipwrecks, most of them happening during "Northeasters," when high winds and rainy low pressure systems fly over the lake, creating dangerous conditions.
More than 60 fish species call Lake Superior home.
For more on the majestic Lake Superior, check out Shining Big Sea Water: The Story of Lake Superior by Norman K. Risjord. A compelling history of the lake's glacial origins all the way through its present-day uses, this book also offers helpful travel tips and new tidbits about this great lake.
P.S. Don't forget to enter for a chance to win a copy of Cathy Wurzer's Tales of the Road: Highway 61. Share your favorite highway 61 travel destinations by leaving a comment, and who knows: you might just get to have your very own copy courtesy of MHS Press and Borealis Books!
Posted byAlison Aten on 02 Aug 2011 | Tagged as: African American, History, Nature/Enviroment
Looking for some insight into today's vexing issues? Some perspective? A measure of progress? Or maybe some fun? C'mon, it's not too hot to lift a finger and turn a page!
Check out the new Summer issue of Minnesota History, our quarterly magazine.  Begin with photo essays on sexy lingerie, a '50s sock hop, and an old brick schoolhouse reborn as condos. End with book reviews and a photo essay on stunning Dakota ribbonwork. In between, take a leisurely stroll through the articles.
Father Francis Gilligan and the Struggle for Civil Rights: Yes, right here in Minnesota and well before the activist years of the 1960s. He was called to the Twin Cities to teach moral theology at St. Paul Seminary in the early 1930s and got right to work. Inside and out of the classroom, Gilligan argued that racism was a grave sin. He merged Catholic social-justice teachings with sociology to fight discrimination in housing, hiring, and even burial practices.
Frances Densmore Gets the Depression Blues: Suddenly unemployed and no longer young, this self-trained ethnomusicologist from Red Wing struggled to keep working in tough economic times. She wasn't poor enough to qualify for relief programs, and who needs music collectors when people are starving? Cultural ideals and popular interest in folk culture were changing, too. Densmore did manage to get by, and she amassed a huge archive of recordings, transcriptions, and writings. Modest renown came late to her, yet people today are still assessing her legacy.
From Emission to Pollution: Regulation and Changing Ideas about Smoke in the Twin Cities: It was an uphill battle to convince folks that smoking chimneys didn't necessarily signal prosperity. Factories, ships, trains, office buildings, and homes belched thick, sooty coal smoke into the air as the industrial era moved into the early 1900s. In the end, St. Paul and Minneapolis took different paths to abating the nuisance, with the capital city in the lead. The secret to success? Regulation, yes, but also enforcement. And it helped to have a charismatic, energetic health commissioner, too.
The Summer 2011 issue (volume 62, number 6) is available for sale in the MHS museum store, 651-259-3010. Or subscribe–four issues a year delivered to your door!
Guest blog post by Minnesota History editor Anne Kaplan
Posted byAlison Aten on 07 Jun 2011 | Tagged as: Event, History, Nature/Enviroment, Nonprofit, Travel
A coalition of organizations has launched a website for the documentary River Revival: Working Together to Save the Minnesota River, which will air on KARE 11 TV on Sunday, June 12, at 6:00 p.m. The hour-long  film, narrated by Minnesota Bound's Ron Schara, features a geological and cultural history of the Minnesota River and focuses on the many types of pollution affecting the river and its basin, paired with success stories of people working together to restore the river.
The Minnesota River has been listed as one of the dirtiest in the nation. The Star Tribune recently ran a front-page photo showing the river dumping sediment into the Mississippi at Fort Snelling.
A report released last month from the Minnesota Pollution Control Agency highlights how much sediment is being deposited in Lake Pepin, a 20-mile-long wide spot in the Mississippi River. Given the sheer amount of sediment, in a mere 300 years Lake Pepin could disappear.
On Sunday, there are "Watershed-Wide Viewing Parties" at locations around the state where you can watch the film, meet fellow concerned citizens, and discuss community solutions.
Posted byAlison Aten on 29 Mar 2011 | Tagged as: History, Nature/Enviroment
Guest blog post by Ashley Shelby, author of Red River Rising: The Anatomy of a Flood and the Survival of an American City
When it comes to the work of flood prevention, management, and mitigation, we don't all speak the same language. Where a city engineer sees sluice gates, a homeowner sees a sump pump. Where a hydrologist sees—or doesn't—a loop in a rating curve, a city emergency manager sees potential sandbagging capacity. But over the last fifteen years, and years of severe to catastrophic floods in the Upper Midwest's river valleys, it has become critical that we share a common parlance when it comes to the decisions we make about how to live with rivers and other bodies of water.
For too long, we have remained complacent tenants of floodplains and watersheds. Human beings are drawn to bodies of water, often at their own peril. That's why we see people continue to build homes on floodplains, on sandy barrier islands in the Gulf that are continually battered by hurricanes, on rocky cliffs on the West Coast that are washed away in mudslides. It's a risk we take, and yet, for so many people—so many communities—surprise and shock are the responses when these disasters take place, even though these "disasters" are actually natural occurrences. In fact, they are only disasters because they occur at a place of human habitation. The truth is, disasters are largely social products.
In Grand Forks, North Dakota, in 1997, people had lived on the Red for generations. It's typically a mild-mannered stream-like river that cuts a narrow channel, flows north, and is generally sluggish. It climbs no grand inclines, except the ancient shores of glacial Lake Agassiz. However, it is prone to flood almost every year because of that very flatness. There just isn't anywhere for excess water to go.
In the decades preceding 1997, flooding had been kept in check. Yes, there had been a catastrophic flood in 1897 and a few close calls through the years, but 1997 was shaping up to be a do-able flood season. The crest would be high, but the hardy folks of Grand Forks had been through this many times before. Sandbag until you collapse, turn on your sump pump, and hunker down.
But the advance of time and technology has made us arguably overly reliant on technology and perhaps not as in tune with the environment, the watershed, and the way rivers historically behave—and, perhaps more important, the chance every year that they will do something totally unexpected. While the hydrologists at the National River Forecast Center in Chanhassen were unable to see a strange loop in the rating curve detailing flow and velocity of the Red at East Grand Forks (in fact, it is patently impossible to see a loop in a rating curve until after the event), the waters of the Red poured into downtown Grand Forks and East Grand Forks and the face—and the soul—of both communities were changed forever. Floodplains were cleared, homes razed, dikes built, floodwalls raised, and while these efforts were necessary, they caused great heartache for the residents of Grand Forks.
Fargo recently had to make some tough decisions as well; it cleared some of its floodplain of homes in order to enlarge that plain and ensure that flooding of the kind that took place last year doesn't have quite the same human impact it did. That wasn't an easy decision, I am certain, and the city council probably got an earful, just as the Grand Forks city council did.
People may understand, logically, that keeping their home on a floodplain, near a river that regularly floods, doesn't make sense. But when that home has been their castle for decades, when they have—as many in Grand Forks maintained—survived all floods with nothing more than a wet basement, these decisions are very difficult to swallow, especially when they are being made for you.
It's important to try to avoid such scenarios, if at all possible, and that's where watershed management and pre-flood mitigation comes into play. What's being done in the Lac Qui Parle-Yellow Bank Watershed, for example, is providing critical flood prevention and mitigation to the communities on that part of the Minnesota River: the Lazarus Creek Dam, the Fish Lake Outlet Repair, stream bank stabilization projects, the levee on the West Branch. The Hansonville 34 new dam was the result of the district working with a single landowner to construct a dam for flood retention by doing some cost sharing. Efforts like this save millions upon millions of dollars in flood damage and also put these issues in front of the community at large, making flood mitigation and prevention a community-wide effort. Perhaps more important, they give citizens the feeling that they can become part of the dialogue and have some say in the way their town fights floods.
Watershed management and flood mitigation is something that just about everyone in a community has an opinion on, and making this process perhaps even more complicated is that many of these decisions don't come in the aftermath of a major flood, when the "evidence" is pooling around your boots. Often preventative measures cause at least as much angst, if not a little more, because there is no compelling, concrete reason to make changes to, say, farming practices or existing flood prevention infrastructure while the major flood is still hypothetical. (In rural areas, for example, the biggest bone of contention often turns out to be the way farmers tend their land and what effect those practices have on the watershed.)
The National Weather Service released its first flood outlook for the Red River Valley in late January, and it told flood watchers that there was a 50 percent chance the Red at East Grand Forks will rise to fifty feet or higher this spring. Only twice before in its recorded history has it done that: in 1897, when it hit 50.2 feet, and in 1997, when it rose to the apocalyptic 54.35 feet. It may be a spring to watch the way decisions made in the midst of catastrophe and loss can prevent catastrophe and loss from happening again.
Posted byMary Poggione on 25 Feb 2011 | Tagged as: Authors, Event, MHS press, Nature/Enviroment
At least, summertime is what I think of when I think about the Boundary Waters. And boy, could I use a little sunshine and warmth right now.
Authors of three MHS Press books will be reading and speaking about the BWCAW region at the Loft this Tuesday, March 1, at 7:00 PM: Betty Hemstad, author of Wildflowers of the Boundary Waters; Greg Breining, co-author of Paddle North; and Joe Paddock, author of Keeper of the Wild. Also, poet Stephen Wilbers will read from his chapbook, This Northern Nonsense, and his forthcoming Canoeing Across Time: A Boundary Waters History. Hope to see you there!
For your viewing pleasure, here's a quintessential summertime image from Greg Breining and Layne Kennedy's book, Paddle North:
Posted byMary Poggione on 10 Nov 2010 | Tagged as: History, Nature/Enviroment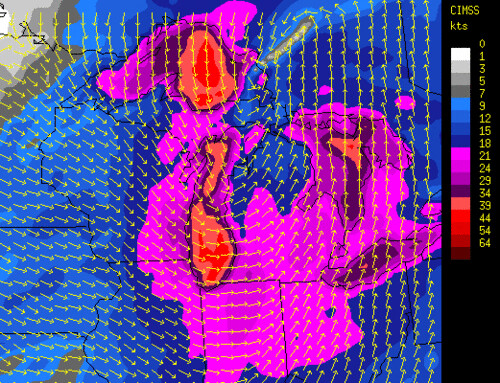 MPR.org's Updraft blog has an interesting piece focusing on the weather forecasting tools available at the time of the sinking of the Edmund Fitzgerald and how the accident may have been prevented had the technology been as advanced as it is today.
From the blog post:
"The Fitz storm began as a fairly moderate low pressure system in Kansas on November 9th. The central pressure at the time was 29.53″. By the morning of November 10th the surface low had raced all the way to Marquette, and deepened to 29.00″. Later that evening, the low was near James Bay in Ontario with a surface pressure of 28.88″. That's the equivalent of a Category 2 hurricane on the Saffir-Simpson hurricane intensity scale!
"That kind of rapid intensification was almost impossible to forecast back in 1975. The wave heights generated on Lake Superior were believed to be at least 16 to 18 feet druing the height of the storm. Since so called 'peak waves' or rouge waves can superimpose on top of each other, it is believed the waves that sunk the Fitz may have been twice as high, possibly up to 30+ feet or higher."
Split Rock Lighthouse in Two Harbors is having its annual lighting of the beacon today from 12 to 6 in memory of those who lost their lives on the Edmund Fitzgerald.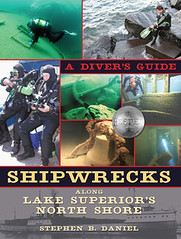 For more information on other shipwrecks of Lake Superior, check out the MHS Press book by Stephen Daniel.
Posted byAlison Aten on 08 Nov 2010 | Tagged as: Authors, Event, MHS press, Nature/Enviroment, Travel
Paddle North: Canoeing the Boundary Waters-Quetico Wilderness, with photographs by Layne Kennedy and essays by Greg Breining, is available in bookstores now. The book reflects on the spirit of place, conveying an open invitation to visit an ages-old wilderness.
To view images from the book, check out Layne's appearance on KARE 11.
Greg will present a talk on the "Boundary Waters of the 21st Century" and sign books at the Outdoor Expo, sponsored by Midwest Mountaineering, on Saturday, November 20, at 10:30 a.m.
Layne and Greg will also sign copies on Sunday, December 5, from 2 to 3 p.m. at the Minnesota History Center Bookstore and on Sunday, December 12, at 2:00 p.m. at the Barnes & Noble Har Mar.
Posted byMary Poggione on 18 Aug 2010 | Tagged as: Arts, MHS press, Nature/Enviroment, Videos
Layne Kennedy, a photographer and MHS Press author, has a new book coming out with writer Greg Breining this November titled Paddle North: Canoeing the Boundary Waters-Quetico Wilderness.
Posted byMary Poggione on 09 Jun 2010 | Tagged as: Nature/Enviroment
As of Tuesday, Minnesota has a new state park on Lake Vermilion outside of Ely and adjacent Soudan Underground Mine State Park. The Duluth News Tribune reports, "Natural Resources Commissioner Mark Holsten said some public tours will be allowed in the park this summer, and limited trails should be ready by fall. Boaters already may explore the lakeshore."
Per Chris Niskanen, Pioneer Press writer and co-author of Prairie, Lake, Forest: Minnesota's State Parks:
"Lake Vermilion State Park will be a wonderful addition to the state park system because of its access to undeveloped shoreline along Lake Vermilion, one of the state's best fishing lakes. I have visited the site and know Minnesotans will be impressed with the area's forests, marshes, geology and wildlife. It is destined to rank among our top 5 favorite state parks."
For more information about and gorgeous images of Minnesota's impressive state parks system, check out Prairie, Lake, Forest by photographer Doug Ohman and writer Chris Niskanen, available at a fine bookstore near you.