Created by Alison Aten on 04 Jan 2013 | Tagged as: Uncategorized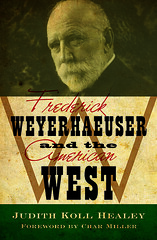 Frederick Weyerhaeuser and the American West
Judith Koll Healey
Introduction by Char Miller
Guest blog post by Judith on writing this biography.
A new biography of Frederick Weyerhaeuser (1834–1914), one of the great industrialists of the late nineteenth and early twentieth centuries and founder of the international timber corporation the Weyerhaeuser Company.
The Weyerhaeuser name looms large in Minnesota, Wisconsin, Washington, and Arkansas, attached to paper mills, cabinet factories, and vast tracts of land, both forested and cut over. Frederick Weyerhaeuser, the man who started the lumber empire, significantly shaped the American economy and landscape from Wisconsin westward in the nineteenth century.
A complex and private man, Weyerhaeuser emigrated from Germany in 1852 at the tender age of eighteen. In just a few years, he would be a prominent lumberman, organizing partnerships among competing companies, rationalizing the business, and then making the largest timberland purchase in the history of the United States.
Author Judith Koll Healey narrates the life of this extraordinary man through newly available resources: his extensive correspondence and journal entries as well as the letters and diaries of family members, friends, and business associates from around the country. She frames Weyerhaeuser's many commercial opportunities and business decisions within both the family's internal dynamics and world events: war and unrest, economic upswings and downturns, and western expansion and eastern urbanization. Throughout, Healey offers a thoughtful perspective on his achievements  as well as the limitations of his vision for the expansion of the American West.
Advance Praise:
"Anyone who would understand America's forests and, indeed, America should read this fascinating book. Frederick Weyerhaeuser is as important a part of America's forest past and present as Schenck, Pinchot, and Leopold."
–John C. Gordon, Pinchot Professor Emeritus and former dean, Yale School of Forestry and Environmental Studies
"Nearly a century after his death, Frederick Weyerhaeuser finally receives the biography he richly deserves. Drawing from recently discovered documents, Judith Koll Healey shows us why this visionary's business and personal lives were so closely intertwined and why that matters, why he was deeply respected by business associates and rivals alike, and why his legacy continues to shape the timber industry today."
–James G. Lewis, author of The Forest Service and The Greatest Good: A Centennial History
"Writing with subtlety and grace, Judith Koll Healey provides a well-documented and seminal biography of Frederick Weyerhaeuser. It should be read widely in forestry circles, but anyone interested in business leadership and principles will find this book relevant and instructive. We are proud to have it on our shelves."
–Dr. Steven Anderson, President and CEO, Forest History Society
Judith Koll Healey has been a philanthropic professional for thirty years and has lectured internationally on the topic of art and the unconscious. She is the author of two historical novels. Char Miller is the W. M. Keck Professor of Environmental Analysis at Pomona College, Claremont, California, and author of Gifford Pinchot and the Making of Modern Environmentalism.
Available May 2013 from Minnesota Historical Society Press
$27.95 paper, 256 pages, 6 x 9, 40 b&w photos, notes, index, appendixes ISBN: 978-0-87351-891-8
Pre-order from amazon, bn.com, Powells
$18.99 e-book, ISBN: 978-0-87351-898-7, from Minnesota Historical Society Bookstore, Kindle, Nook, Kobo, iTunes