Created by Alison Aten on 12 Jun 2013 | Tagged as: Uncategorized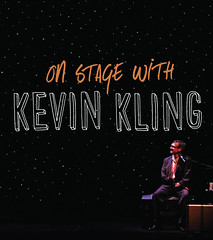 On Stage with Kevin Kling
Kevin Kling
MPR with Cathy Wurzer on Gulliver Unravels
Three complete plays plus excerpts, poems, and essays put readers on stage alongside Minnesota's favorite storyteller, Kevin Kling.
From 21A, the one-man show that launched a career and a whole new perspective on riding the bus, to a sneak peek at the new Minnesota Public Radio–sponsored Gulliver Unravels, On Stage with Kevin Kling gives readers a behind-the-scenes view of one of Minnesota's most popular storytellers.
This collectible volume contains the full text of three of Kevin Kling's stage pieces—21A, Ice Fishing, and Scarecrow on Fire—as well as excerpts from Of Mirth and Mischief and Back Home. Previously unpublished poems, short pieces, and a conversation between the Fitzgerald Theater's Tony Bol and the writer provide a window into Kling's creative and collaborative process.
Kevin Kling has been telling his off-kilter stories with humor, heart, and thoughtful philosophizing for over twenty years, and this book brings readers right on stage with the master.
Kevin Kling, well-known playwright,  storyteller, and author, has been an artist in residence for the past three years at Minnesota Public Radio's Fitzgerald Theater. Of Mirth and Mischief, Back Home, Scarecrow on Fire, and Gulliver Unravels, all featured in this volume, were created in conjunction with this program.
Check out his children's books with illustrator, Chris Monroe: Big Little Brother and Big Little Mother
Available November 2013 from Minnesota Historical Society Press
$24.95 cloth, 208 pages , 8 x 9, 40 b&w illustrations, ISBN 978-0-87351-916-8
Enhanced E-book: $14.99, ISBN 978-0-87351-917-5
Includes eight video excerpts from an interview by Tony Bol, the Director of Performance Programs at Minnesota Public Radio, The Fitzgerald Theater and UBS Forums, with Kevin Kling. Tony and Kevin discuss everything from the 80s performance group Bad Jazz (members were Kevin Kling, Mike Sommers, and Loren Niemi), the Brass Tacks Theater (founded in 1980 by Patty Lynch—and disbanded in 1991) the plays 21A, Ice Fishing, Scarecrow on Fire, and Gulliver Unravels, as well as his long-time working relationship with Simone Perrin, accordion player, singer, and all-around performer.
Pre-order on amazon, Barnes & Noble, Powell's
Look for information on The Fitzgerald Theater's website soon for more information about Kevin's performance there in November 2013!
Of Mirth and Mischief archive on Minnesota Public Radio
Scarecrow on Fire broadcast on Minnesota Public Radio
Back Home archive on Minnesota Public Radio