Cabriolet Sleigh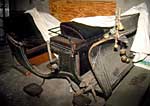 Before Treatment
After Treatment
This sleigh had been stored in the basement of the Alexander Ramsey House, possibly since the late 1920's. It was not actually used by the Ramsey family, but had been given to the Minnesota Historical Society by a donor, and is consistent with the sleigh the Ramsey family was known to have used.
The sleigh still bears a metal plate on the back identifying it as having been sold by or even made by "F. L. Darrow and Co., Minneapolis." The MHS library holds an original product catalog from this company, which includes images and descriptions of many of the sleighs and carriages the Darrow Company sold.
The treatment performed was intended to stabilize and preserve the sleigh. The sleigh was covered with dust, dirt, and mold after years of storage in the basement.
The sleigh had been partially disassembled, possibly to make it easier to carry through the cellar doors. Using a crew of seven men, the sleigh was carefully removed from the Ramsey house basement and brought to the Minnesota History Center.
The sleigh was kept in a special isolated quarantine room for six months, during which time it was allowed to dry out from the humid basement air to stop the mold from growing. It was monitored for infestation by insects dust or other pests.
Overall cleaning removed dust, dirt, and mold. Metal parts were cleaned of rust and corrosion. Damaged leather parts were repaired, and the runners were reattached to the body. Finally, a large wooden cart was made and sealed with water-based polyurethane, with heavy-duty wheels on the underside. Currently the sleigh rests on this cart in storage, and can easily be moved by one or two people.