Daguerreotype Collection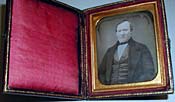 Treatment was recently completed on the Society's collection of daguerreotypes. The collection consists of approximately 185 cased photos.
A phased approach was taken to treating the collection. In the first phase, 53 cases were disassembled and the unstable glass replaced with new glazing and resealed. This gives the images improved protection from moisture and air as well as the deteriorating effects of unstable glass. The components were then reassembled. The daguerreotypes were housed in a lignin and acid-free box. The boxes were labeled and a photocopy of the image attached to the outside of the box, eliminating unnecessary handling by staff and researchers.
The next phase was to survey the collection to identify damaged daguerreotype cases. Approximately 50 cases were identified with broken case hinges. This is because the internal hinges and external covering material were made of leather that had been pared (shaved) very thin to allow the case to be opened easily. This meant, however, that most of the strength of the leather had been pared away, and the case broke in response to frequent opening and closing.
Treatment consisted of lifting the leather on the broken case hinge. The hinge was then lined with an acrylic-toned handmade paper made from flax and adhered with PVA adhesive. Paper was used to line the hinge because it is stronger than leather that would have to be pared too thin to allow easy opening. On a few cases, polyester fabric was used instead of paper to provide greater strength to the hinge. The original leather was then laid back down and adhered over the paper with PVA. The final step was to touch up the case with acrylic color.
The two treatment phases together have provided the daguerreotypes with improved environmental protection, have slowed deterioration, and have facilitated their use while minimizing further damage.