Teachers
overview
primary sources
contact us
Gallery
advertisements
art
books
data
diagrams
diaries
documents
letters
maps
newpapers
objects
photographs
About
philosophy
bibliography
credits

Title: Receipt From North-Western Express Company
Type: Document
Date: 1858
Source: Goodhue County Historical Society

Description: Lawther shipped many items, including gold, by rail during his time in Red Wing. This is the receipt he received from one shipment of gold to Henderson, Minnesota.


Read Transcription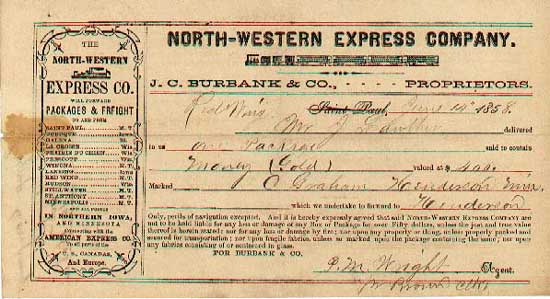 Activities:
The North-Western Express Company has agreed to ship gold worth $400 for Lawther. In what cases will the company not insure delivery of his package?


Why might Lawther wish to deliver something as valuable as $400 by rail and not in person?


If the North-Western Express Company needed to ship something to Europe, how would they accomplish it?


What might the "perils of navigation" suggested on this receipt mean?