"It makes me feel proud when I see the flags waving in the breeze on certain days. My sons are soldiers!"
Isabelle Bellecourt, The Tomahawk, April 25, 1918
Isabelle Bellecourt was a citizen of the White Earth Nation and lived on the White Earth Reservation. Her husband, Eustache, served in the Civil War and her sons Charles (Marine Corps) and Paul (Cavalry) served in World War I.
She was proud of her sons' military service. In 1918, after they were deployed to France, Bellecourt published a letter in the White Earth newspaper, The Tomahawk: "I rest in peace for I know my sons are doing what is right and what their father would have them do." Bellecourt celebrated her family's contribution by serving on the Armistice Day celebration committee at White Earth in 1923.
Bellecourt's involvement with both the White Earth Nation and the US war effort mirrored the experiences of many Native women during World War I. At the time, Native American men who were US citizens could volunteer or be drafted into military service, and many served. However, citizenship status for Native Americans was often unclear, leading the draft boards to sometimes assign citizenship status — and thus draft eligibility — arbitrarily. At times, this barred Native Americans who volunteered to serve, while others were allowed to volunteer despite lack of US citizenship.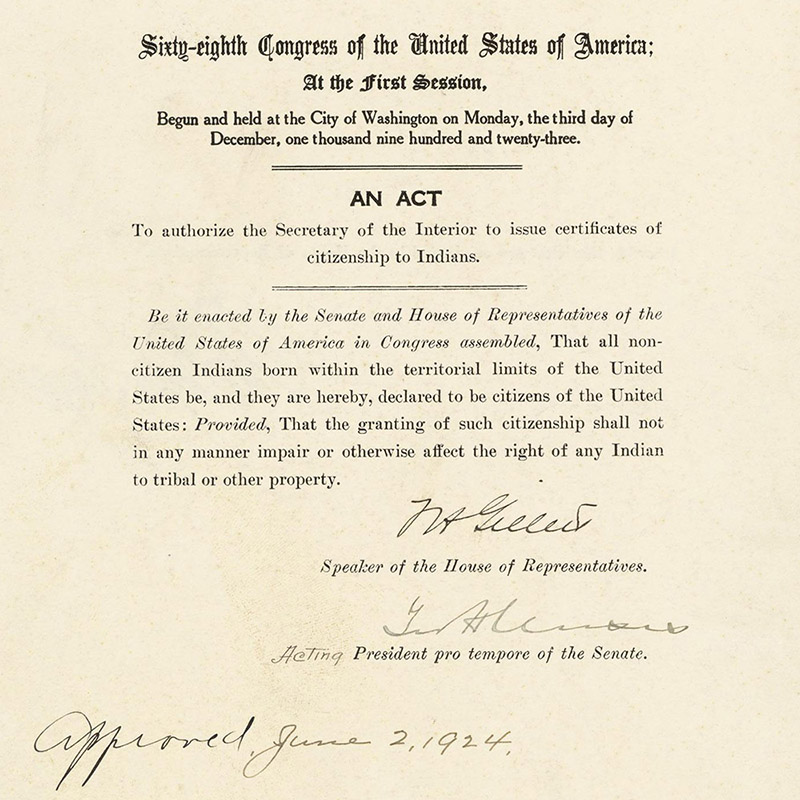 Indian Citizenship Act, 1924. Courtesy National Archives. The Indian Citizenship Act expanded citizenship for Native Americans. Some Native Americans saw this as an expansion of political power while others saw it as a threat to Native sovereignty.