"The advocates of suffrage in Minnesota were so few in the early days, and their homes so remote from each other, that there was little chance for cooperation."
Sarah Burger Stearns, quoted in History of Woman Suffrage, vol. 3, 1885
When she was 14, Sarah Burger wrote an editorial for her high school newspaper in Ann Arbor, Michigan. She criticized her state university for not admitting women. Two years later she went to her first suffrage convention. In her early 20s, she petitioned the University of Michigan to admit women, but by the time women were admitted in 1869, Sarah had already graduated from the State Normal School.
Sarah Burger Stearns and her husband moved to Rochester, Minnesota, in 1866. She drew on lessons learned in her teens and 20s — how to craft an argument, draft a petition, and work with like-minded women — during the early years of Minnesota's suffrage movement.
In 1867, Stearns and Mary Colburn petitioned the Minnesota state legislature to strike the word "male" from voting requirements. The resulting bill was defeated. Undaunted, Stearns founded the Rochester Woman Suffrage Association.
In 1872, Stearns moved to Duluth. She organized the Duluth Woman Suffrage Circle, and served on the city's school board. In 1881, she and 13 other women founded the Minnesota Woman Suffrage Association (MWSA). The women elected Sarah Stearns their first president. By 1882, the group had grown to 200 members.
Sarah Burger Stearns, 1895. Courtesy Archives and Special Collections, University of Minnesota Duluth. Northeast Minnesota Historical Collections. By 1895, Stearns was one of Minnesota's leading suffragists.
House File No. 123, introduced February 9, 1870. This bill extended suffrage to male and female citizens aged 21 and over. It passed the House and Senate and was headed for a popular vote when Gov. Horace Austin vetoed it, citing its wording as illegal.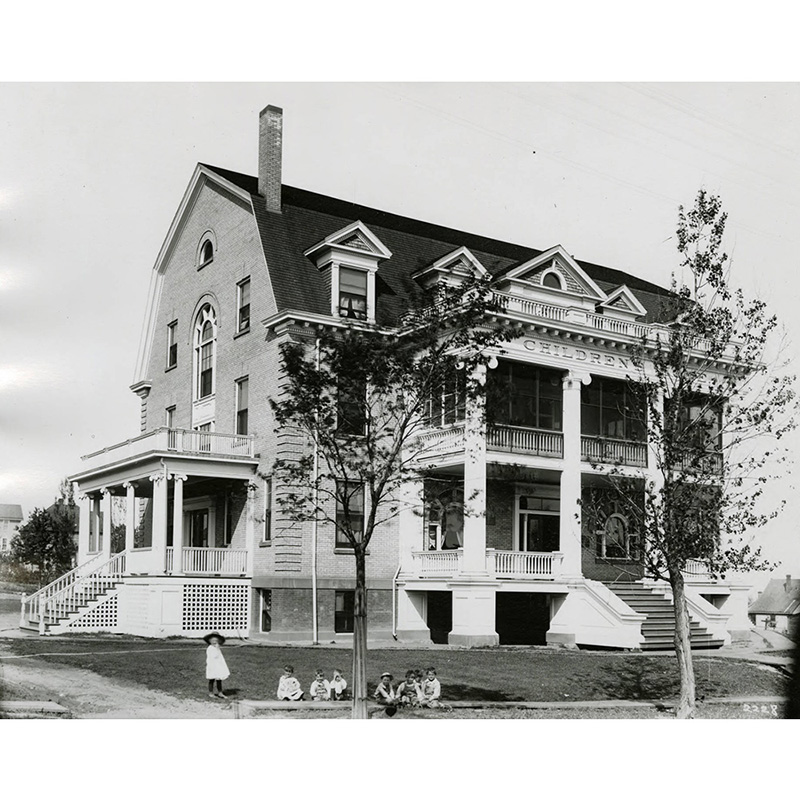 Duluth Children's Home, about 1915. Courtesy University of Minnesota Duluth, Kathryn A. Martin Library, Northeast Minnesota Historical Collections. Founded by Stearns as the Ladies Relief Society, this program lives on as Northwood Children's Services.
First Presbyterian Church, Hastings, MN, 2015. In 1881—five years after it was built—women gathered at this church for a temperance meeting. Fourteen of those women then founded the Minnesota Woman Suffrage Association.